Restaurant operators across the U.S. will long remember the pandemic year of 2020. For Bluepoint Hospitality Group, two special reasons to remember the past year will be the launch of two exciting new restaurants, The Wardroom and Roma Alla Pala. TechRyde is proud to have worked with Bluepoint as a technology partner in the opening and ongoing operation of these unique restaurants.
Challenge 1: The Wardroom, Easton, Maryland
The Wardroom, opened in Easton, MD in Fall, 2020,is actually three venues under one roof. A retail shop sells off-premise premium wines, fine spirits and craft beers; an epicurean market offers cheeses, charcuterie, and take-away artisan products; and a bistro offers sit-down service with variety of cuisines throughout the day.
One unique feature of the bistro at The Wardroom is a self-pour wine sampling system. Up to 30 different wines are available at a variety of price points. Guest pours are monitored through a RFID system.
When the Oracle MICROS Simphony POS system was chosen for The Wardroom, the Bluepoint team knew integration of payment systems, restaurant software and other technology platforms, such as the one that controls and tracks the Wardroom's self-pour wine system, would be a challenging assignment.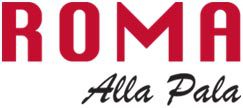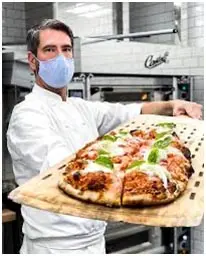 Challenge 2: Roma Alla Pala, Easton, Maryland
Roma Alla Pala opened in early 2021 as a Roman-style pizzeria. The operation is currently to-go orders only. Roma'ssignature ingredient isa Roman-style pizza dough requiring a 72-hour fermentation time. Their pizzas are cooked in specialty ovens with top and bottom heating elements.
Currently, 60% of the restaurant's business is through online orders. For Roma, TechRyde integrated their cloud-based online ordering system that allows customers to order ahead or on the spot with a mobile app. TechRyde's online ordering platform has key features which have proven to be critical for Roma. One is an Order Throttling feature that allows operators automatically pull items off the menu when they are sold out by Online Ordering software.
"Because our dough requires a 72-hour fermentation, we have to anticipate sales three days in advance" said Thad Hoy, "When it turns out that we are running out of dough by mid-shift, Order Throttling is a big deal because it means we don't disappoint customers by taking orders we cannot deliver."
The Results:
Thad Hoy, Operations Manager for Bluepoint Hospitality, admits to hesitation in choosing TechRyde. "We knew TechRyde had been vetted by Oracle MICROS but they didn't have a long track record in the U.S. These were going to be tough integrations and to be honest, we had a few concerns in the early days. But TechRyde took every suggestion that was made and they ran with us. They were tenacious about solving every challenge that came up. In the end, they absolutely delivered. They won us over 100%."
"TechRyde won us over as fans with their tenacity to solve problems. We gave them a big challenge to integrate our tech platforms, some of which had been custom-built, with our new POS. There was a learning curve but I'm happy to say TechRyde rose to the challenge. We will bring TechRyde into a total of 10 venues over the coming months."
Bluepoint Hospitality Group owns and operates boutique restaurants and businesses in Talbot County on Maryland's Eastern Shore. Our team strives to create an atmosphere that is refined, yet never pretentious. We are committed to providing a remarkable experience for our guests – one that is executed with excellent service and the very finest cuisine.
Bluepoint Hospitality Technology Overview
Oracle Micros Simphony POS
TechRyde Online Ordering
Online Ordering software
Integration #1 OnLine/Mobile Order-Pay
Integration #2 Curbside Pickup with arrival notification
Integration #3 QR Code Browse the Menu – Order – PayAtTheTable
Integration #4 OrderTaker 7" Android Tablet Order and PayAtTheTable